eSewa has released a new feature that allows users to connect their bank accounts in eSewa once to load money into the wallet or make payments.
It means that logging into a bank account any time you want to load money into eSewa is no longer necessary!
There are currently 19 Banks and Financial Institutions (BFIs) offering this service through eSewa, including 5 commercial banks, 2 development banks, and one finance firm. Customers with accounts at these BFIs will take advantage of eSewa's new service.
What does the "Link Bank Account" service entail?
Since our digital wallets are connected to our banking system, loading the amount was required each time money was loaded or payments were made via eSewa. To this day, someone who wants to load money into eSewa must use the bank's mobile banking system or internet banking to do so.
Payment service providers (PSPs) such as cellpay, khalti, and imepay have provided this service in Nepal.
Many digital wallets in India, such as PayPal, Paytm, and Phonepe, provide bank linking services to their customers.
eSewa, unlike connectIPS, did not allow direct loading or payment via a bank account. However, once you've connected your bank account here, you'll no longer have to go through the hassle of logging into your mobile banking every time you want to load your eSewa account.
Additional Advantages
Clearly, this service would make it easier to load money into eSewa.
It will save you time and effort while loading money because you will not have to log into your mobile banking account every time.
Payment of services and mobile top-ups and recharges will be made directly from your bank account using eSewa, without the need to load funds.
Once you've linked your bank account, you'll never have to enter your mobile banking login credentials again. That's what there is to it!
Similarly, this service will help you save money while loading your wallet from your bank account.
How do I connect my bank account to my eSewa account?\
Go to eSewa's "Load Money" option after logging in.
Select "Link Bank Account" from the drop-down menu.
Choose your financial institution.
Sign in to your mobile banking account.
An OTP will be sent to your phone number. Tap "Pay" after entering the OTP.
Then your bank account is connected.
Loading money from your linked bank account?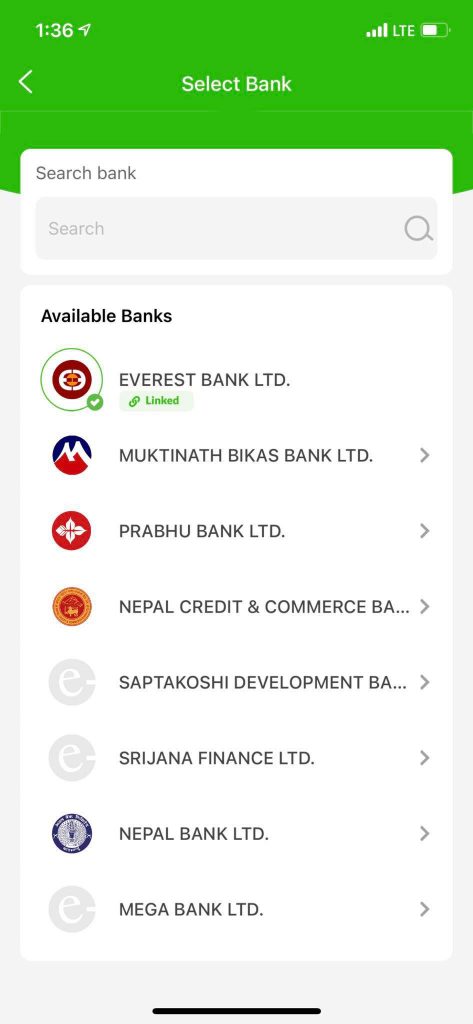 Go to eSewa's "Load Money" option after logging in.
Tap "Load" on your related bank account.
Fill the container with the number you want to fill and the reason you're doing it.
Select "Proceed" from the drop-down menu.
Check your information and then press "Load Fund."
To continue, enter your eSewa MPIN or use Fingerprint.
Your funds will then be transferred to your eSewa account.
There are certain transaction limitations in using this service.
| | |
| --- | --- |
| Per Transaction | Rs 25,000 |
| Per Day Transaction | Rs 100,000 or up to 10 times |
| Per Month Transaction | Rs 500,000 or up to 100 times |
Things to remember
Just 19 BFIs are currently offering this service via eSewa. This service is only available to customers of these banks and financial institutions. A number of other BFIs are in the works.
To use this service, you must be an eSewa confirmed customer.
Your eSewa mobile number and your mobile banking system must all be the same. Otherwise, you can use the other number in eSewa as a "Secondary ID."
eSewa has been introducing new features and services to its system in order to provide its customers with a convenient and safe digital payment experience. Customers will be able to make deposits or load funds more easily with this service. As the country's first digital wallet, eSewa has amassed a wide customer base and continues to expand with its ever-evolving and ever-improving technology and service.
You May Also Like: