This article is for you if you are concerned about receiving remittances from loved ones who are currently abroad due to the lockdown. Did you know that eSewa has a unique remittance function called "eSewa Remit"? Yes, also during the lockdown, you will receive remittances directly via eSewa.
eSewa has collaborated with a number of remittance firms to make it easier for our overseas relatives to send money back home. It claims to be committed to lowering the total cost of remittance in Nepal by offering low-cost alternatives to traditional brick-and-mortar establishments. Since 2019, eSewa Money Transfer has provided this service, allowing users to send remittances to Nepal from over 200 countries around the world.
Currently, the eSewa app offers two remittance options: eSewa Remit and City Express.
For a smooth remittance experience, eSewa money transfer has collaborated with foreign remittance companies such as Remitly, MoneyGram, WireBarley, and many others.
What is the mechanism behind it?
To collect the payout number, eSewa remit has 8000+ agent locations spread throughout Nepal. Similarly, the balance of the remittance can be credited directly to the beneficiary's bank account. The money can then be transferred to the beneficiary's eSewa wallet in a matter of minutes.
There are two ways to send money to Nepal using eSewa money transfer:
Pick up your cash or deposit it into your bank account right away.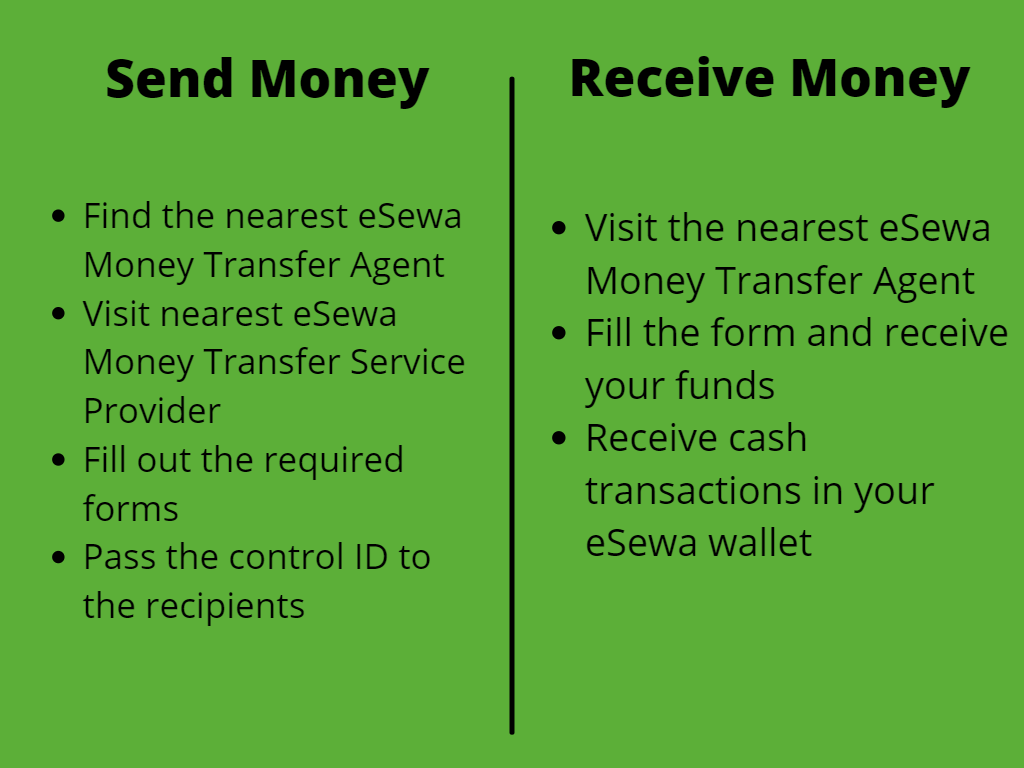 Due to the lockdown, you will be able to receive money into your bank account quickly after the sender sends you the funds via eSewa money transfer.
You can receive money from over 200 countries using this app, but you won't be able to send money abroad because digital wallets aren't yet approved for international payment gateways. Domestic remittance is possible within the country, and you can choose the district to which you want to send the money.
Remmitance Companies that work with eSewa
For the most convenient inflow of remittance from abroad, eSewa has a large network of partner remit companies all over the world. The remittance companies mentioned below are from various countries and can help you send money to Nepal through eSewa.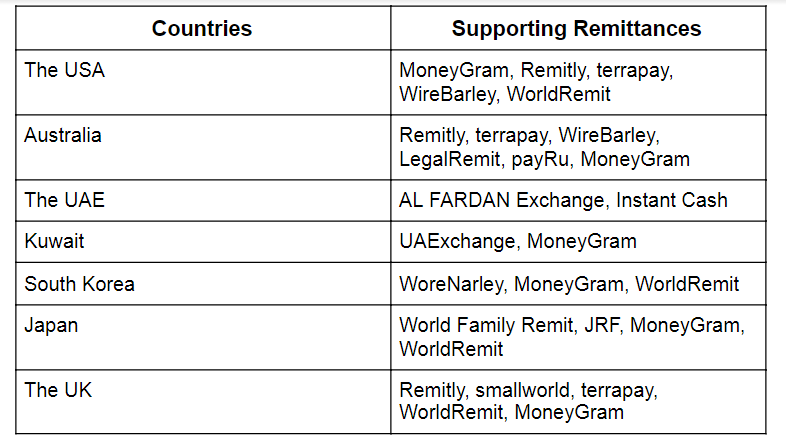 What is the best way to submit money to eSewa in Nepal?
Here's how you can send money to eSewa in Nepal from abroad, if you're a migrant.
Establish an account with any remittance software that works in the country where you live. If you're sending money from Australia, for example, you can use the Remitly app.
Then choose Nepal as your final destination.
Enter the sum you want to submit as well as other information such as delivery speed and process.
Choose eSewa as your payment option.
Fill in the recipient's phone number and full name. Remember that the beneficiaries must already have an eSewa account at home.
Fill in your payment details.
How to receive money in eSewa from abroad?
Login to eSewa
Tap on "Remittance"
Select eSewa Remit
Tap on "Receive Money"
Select country from  where you are receiving the money, enter the MCTN number and amount
Tap on "Proceed"
What are the Benefits of Using eSewa for Remittance?
There are, however, other ways for sending money back home. But what is the significance of eSewa? Isn't that what you're thinking? Let us explain why in the following paragraphs:
1. Payment Monitor
This functionality also includes a payment tracker, which allows you to get real-time alerts on your transaction by simply entering the tracking ID/control number issued by their agents into their online tracking system.
2. Policy on Enforcement
For audit trials, eSewa takes strict measures to verify its users, and they keep a record of each transaction, including records, for at least 5 years.
They are also committed to anti-money laundering and anti-terrorist financing, as transactions must adhere to the Financial Action Task Force's guidelines and recommendations (FATF).
3. A large network
In Nepal, there are over 8000 eSewa payout locations for remittance. The nearest domestic agents from which to send and receive the payout number can be found. Similarly, eSewa Money Transfer has collaborated with over 80 banks and financial institutions to provide its customers with more convenient remittance services.
Allow the data to speak for itself in retrospect!
Nepal is one of the world's top 20 remittance-receiving countries and ranks among the top five SAARC countries in this group. Nepalese migrant workers sent $8.1 billion in remittances via structured remittance channels such as banking and financial transfers in 2018.
Following the outbreak of the Covid-19 pandemic, the World Bank forecasted a 7% drop in remittance inflows in low and middle income countries in 2020. According to the annual report of Nepal Rastra Bank for FY 2076/77, Nepal experienced a 0.5 percent decline in remittance inflow from migrant workers abroad during that time, bringing the total to Rs 875.3 billions, up 16.5 percent from the previous year. However, as the number of Nepalese migrants grows, it is clear that remittances will play a larger role in the country's GDP.
However, there is a difference in remittance inflow since a large portion of it enters the country through unofficial channels. Various banks and financial institutions, as well as non-banking institutions, support the structured remittance mechanism. In any case, digital wallets like eSewa facilitate the inflow of remittances through a safe, dependable, and hassle-free method. Send this to your family and friends in other countries who are unsure how to send you money during the shutdown. It may be a relief for both them and you.
You May Also Like: